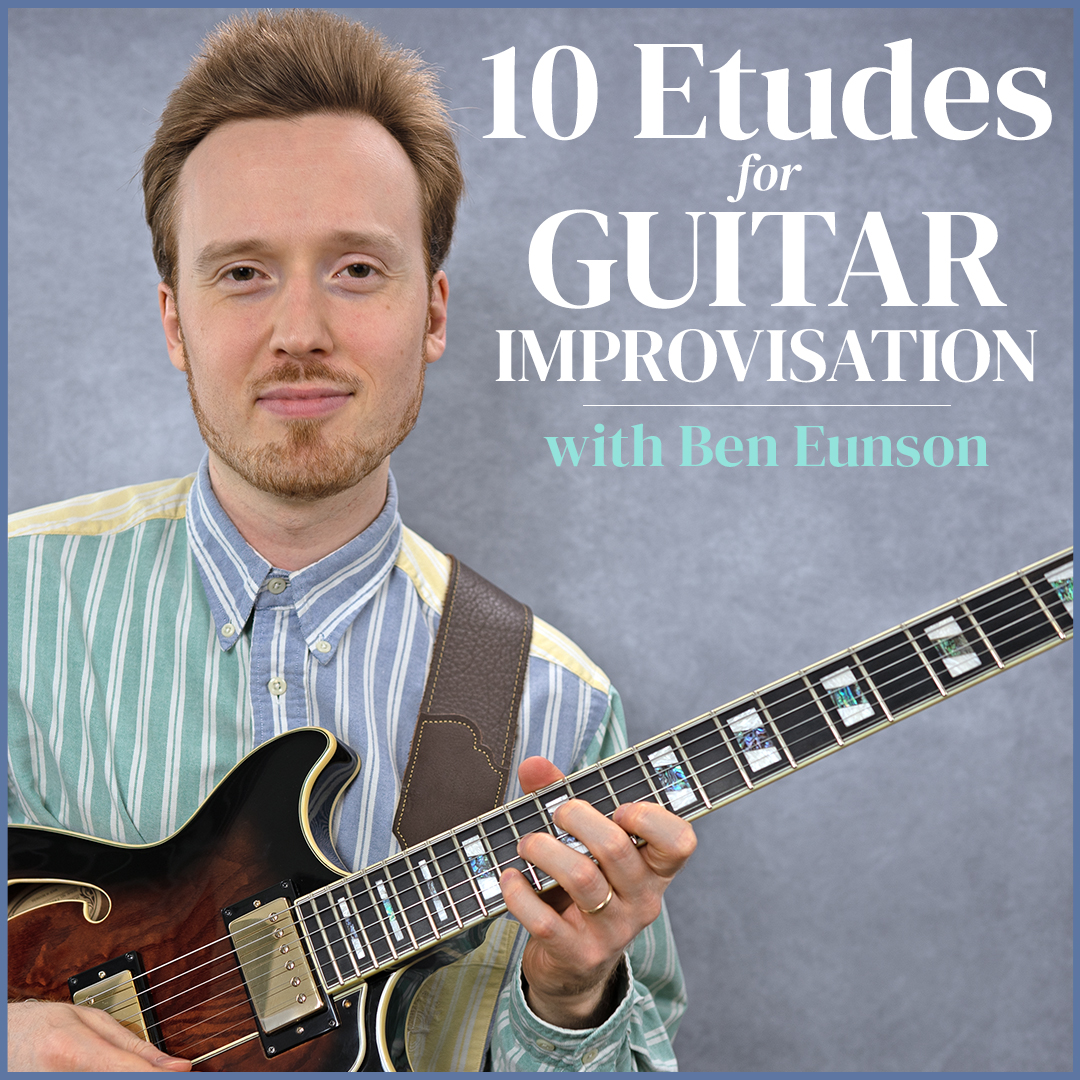 10 Etudes For
Guitar
Improvisation

This is 10 Etudes For Guitar Improvisation!
We'll be exploring how to build soloing language by effectively utilizing Triadic Arpeggios, 7th Chord Arpeggios and intervallic structures - all of which will be derived from commonly used Scales and Modes.
What began as a series of several improvised Etudes between 2021 and 2022 has grown into a full online improvisational masterclass, demonstrating just how much you can extract from a collection of Scales and Modes that are generally considered to be commonplace within the realm of modern guitar soloing.

Preview this masterclass:

Learn more about
10 Etudes For Guitar Improvisation:

Q&A
What will you cover in "10 Etudes For Guitar Improvisation"?
We will be looking at how to expand your improvisational language on the guitar neck by playing 10 Etudes

(with play-along backing tracks included)

, focusing on basic Major and Minor Modes, Harmonic Minor Modes, Melodic Minor Modes and Diminished Scales. To assist in our exploration of improvisational language, we will be drawing upon a wide range of Triadic Arpeggios, 7th Chord Arpeggios and various intervallic structures found within these Scales and Modes. An in-depth theoretical explanation is also provided for each Etude, explaining how each Scale/Mode works in relation to its corresponding chord. In this online masterclass, you will be able to access 10 lesson videos across a total of 4 sections, featuring in-depth theoretical explanations with all musical examples notated in Standard Notation and TAB. All instructional videos are presented by Ben Eunson, and feature optional English subtitles.

How difficult would you say the material is?
This material is best suited for intermediate to advanced guitarists.
How do I access the masterclass?
Once you have clicked "Purchase Masterclass", enter your payment and contact details (including your email address), complete your purchase and you will receive one email. This email contains access details to your purchase and is also a receipt.
On the checkout page, make sure "Delivery address same as billing" is checked. We will not be delivering any physical goods to your address, but it is necessary to check this option as part of the online purchase process.
Does this masterclass contain downloadable files (PDFs, MP3s, Video files)?
No. This is an 100% online masterclass, and requires an internet connection. All instructional videos, notated examples and backing tracks are contained within the online course, and cannot be downloaded to your hard drive. However, once you have made your purchase, you will have lifetime access to the online material.
Do you offer refunds for masterclass purchases?
We would like to ensure your satisfaction with this online masterclass, and if you have any questions or concerns, please be in contact with

[email protected]

. 

Continue learning at Ben's Guitar Club:
Check out additional masterclasses from Ben Eunson to continue developing your playing:

Check your inbox to confirm your subscription